When you're planning a construction project in Gatton or Toowoomba, it's important to factor in the cost of earthmoving machinery. While there are some projects that can be completed without this heavy equipment, most larger projects will require at least a bulldozer or backhoe. Knowing when you need these machines can help you plan your budget and avoid costly delays.
EXCAVATORS
RJS EARTHWORKS can supply excavator combinations in a multitude of size arrangements. Our versatility ensures we provide excellent value for money in our completed jobs.
5 Ton – 30 Ton
450mm/600mm/900mm/1200mm/Sive Buckets
Ripper/Compaction Wheel/Hydraulic Grab
Rock Hammer/Auger sizes to 900mm
Engcon EC219 Hitch
LASER BUCKET
Water is one of nature's most precious resources, and one that farmers worldwide must utilize effectively in order to meet the ever-increasing demand for food. RJS EARTHWORKS uses Trimble's most efficient water management system, utilizing GPS signals for topographic surveying, land levelling, and levee design and installation.
LOADERS
Our fleet of loaders have a numerous of attachments which means RJS can provide a loader to suit every project.
2m3/4m3 Buckets
4IN1 Buckets/Forks/Jib
Stick Rake/Rippers
Scales/Burst protection as per current WH&S Qld code of practice
ROLLER
5 Ton – 20Ton
Flat Drum/Pad Foot/Trench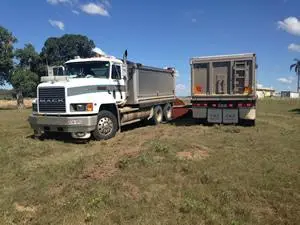 TRUCKS
Body tippers/ Truck and Dog
Tag Trailer/Float
Water Truck
When do you need an earthmoving service company in Toowoomba, Gatton or Lockyer Valley?
You will most likely need the help of an earth moving service company if you are:
Remodeling your home and need to move large amounts of earth

Building a new home and need to level the land

Expanding your property and need to remove trees or other obstacles

You've had a natural disaster that has caused extensive damage to your property

If you just want someone else to take care of all the heavy lifting for you
What should you expect from your earthmoving service company contractor in Gatton, Toowoomba and Lockyer Valley?
First and foremost, they should be able to provide you with an accurate estimate of the cost and scope of the project. They should also have extensive knowledge about the equipment needed for your specific job and be able to recommend the best options for your needs. Most importantly, they should be able to complete the project on time and within budget.
If you're looking for a qualified earthmoving service company contractor, be sure to contact us today! We'd be happy to discuss your specific needs.
How to choose the right earth moving company in Gatton and Toowoomba?
When it comes to getting a job done right, it's important to choose the right service company. Earthmoving service companies offer a range of services that can help make your next project a success. From excavation and land clearing to demolition and landfill management, these companies can help you get the job done safely and efficiently. So, how do you select the right earthmoving service company for your needs?
Do your research. Before you even contact any earth moving companies, take some time to research your options. What type of equipment do you need? What are the specs? How much is their service cost? Armed with this information, you'll be able to narrow down your choices and focus on companies that have what you need.

Ask around. Get recommendations from friends, family members, and co-workers.

Compare prices, read reviews and ask questions.

Check insurance and licensing
When it comes time to choose an earth moving company in Gatton and Toowoomba, there are a few things you need to keep in mind. Not all companies are created equal, and some will be a better fit for your needs than others.
Get in Touch
We would like to hear from you. Please send us a message by filling out the form below and we will get back with you shortly.
Areas we serve
Lockyer Valley, Gatton and Toowoomba